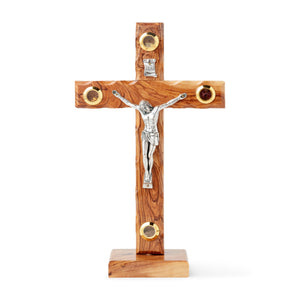 This beautiful handmade Olive Wood Cross is made in Bethlehem, The Holy Land.

In the 4 corners of this hand crafted item are elements that symbolise Jesus and they have all been taken from the Holy land itself.

There is earth from the grounds of Bethlehem, where Jesus walked and lived. Frankincense, given as a gift to celebrate the birth of Jesus. Dried petals from the Holy Land. Olive tree leaves, representing hope and life.


Approx size: various sizes

Please Note: All our products are hand carved from individual pieces of olive wood. Therefore each piece is unique and will have slight variations of colour and grain from the images shown. There may also be slight variations in weight.