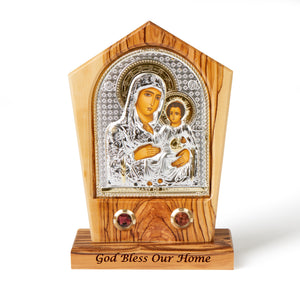 This solid olive wood standing plaque is hand crafted in the Holy Land of Bethlehem.
The glass fronted compartments contains dried rose petals from Bethlehem. The image depicts Mary and baby Jesus.
This would look perfect in any home and can be placed on any mantle piece, shelf or work station, as well as being given as a thoughtful and precious gift to a loved one.
Approx size: 17 x 11.5 x 4 cm
Please Note: All our products are hand carved from individual pieces of olive wood. Therefore each piece is unique and will have slight variations of colour and grain from the images shown. There may also be slight variations in weight.