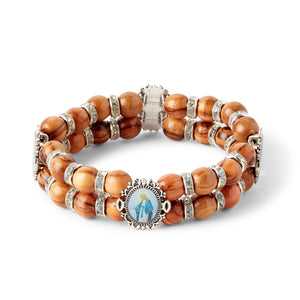 The rosary beads on this elegant bracelet have been individually cut, sanded and polished from olive wood. Incorporated in the bracelet is also the image of the Mother Mary. This is an elasticated bracelet and therefore easy to wear.
Approx size: 15cm, expands to fit most sizes
Please Note: All our products are hand carved from individual pieces of olive wood. Therefore each piece is unique and will have slight variations of colour and grain from the images shown. There may also be slight variations in weight.