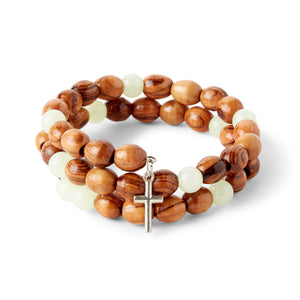 This rosary bead bracelet is made to wrap elegantly around the wrist, with no need to worry about small clasps.
The rosary beads have been individually cut, sanded and polished from olive wood and is finished with a crucifix that sits perfectly on the end. 
Approx size: 16cm, expands to fit any size wrist
Please Note: All our products are hand carved from individual pieces of olive wood. Therefore each piece is unique and will have slight variations of colour and grain from the images shown. There may also be slight variations in weight.