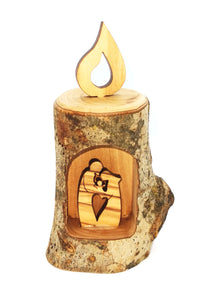 This unique piece is one of our most popular items. Carved into a single branch from the olive tree, this ornament shows the simple and special beauty of the nativity scene and the love of a family. 
The flame can be removed for safe storage.
Approx size: 5 x 11.5 cm
Please Note: All our products are hand carved from individual pieces of olive wood. Therefore each piece is unique and will have slight variations of colour and grain from the images shown. There may also be slight variations in weight.